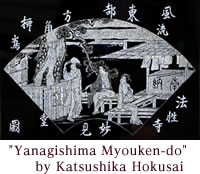 Yanagishima's Mt. Myouken Hosshou Temple(Yanagishima Myouken-san Hosshou-ji), known as "Yanagishima no Myouken-sama" with a history of more than 500 years, is a temple belonging to Nichiren Buddhism. It was founded by holy priests Hosshou-bou Nissen in 1492.
Famous as the temple of faith for Katsushika Hokusai, the artist left many works depicting Hosshou Temple's Myouken Hall (Myouken-do). In addition, it is said that here good fortune was bestowed upon Hiroshige Utagawa and other famed master painters.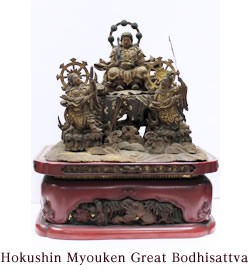 Myouken Hall, in Hosshou Temple, is a shrine to the Hokushin Myouken Great Bodhisattva. "Hokushin" means the Pole Star. The Pole Star is unchanging with seasons or epochs, and always continues twinkling in the north to guide people. The Hokushin Myouken Great Bodhisattva is a figure that embodies the Pole Star, and is worshipped by the people as a god of good fortune bestowing much happiness.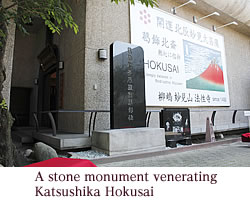 Katsushika Hokusai, an Ukiyo-e artist active in the Edo period, experienced hardship as a youth when he was excommunicated by his teacher and for a time went so far as to put down his paintbrush. However, he came to "Yanagishima no Myouken-sama" for 21 days and, upon his return home on the last day, was struck unconscious by a bolt of lightening. Subsequently, he quickly became famous and sold paintings, leaving behind many masterpieces. It was thanks to the divine protection of "Yanagishima no Myouken-sama" that he became known worldwide as a famous painter. It is said that Hokusai calling himself Tokimasa Hokusai is due to his piety toward the Hokushin Myouken Great Bodhisattva, enshrined at Myouken Hall. A stone monument venerating Katsushika Hokusai stands in Hosshou Temple.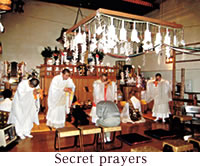 It is said that Hokusai's prayers at "Yanagishima no Myouken-sama" brought him good fortune. You can pray here, too. Secret prayers are also heard on the first of each month at the great festival of Myouken-sama, when monks pray for your good luck, success, academic achievement, health, protection, warding off evil, and your own personal wishes. You can participate in the prayers from 10AM to 3PM on the day, no reservation needed.
(Alms: we ask for a 5,000 - 10,000 yen offering).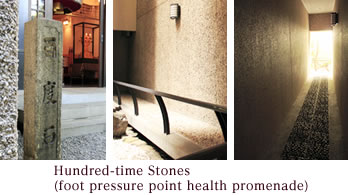 It is said that in the Edo period, there were worshippers who came to pray at Myouken Hall 100 times. Connected to this, a road promoting health by stimulating pressure points in the feet was built. While praying for health, why not try it out?
(Coming to pray 100 times is called "Hyakudo Mairi". It originally meant coming to pray once a day for 100 days, but has been simplified, coming to mean praying 100 times in a single day).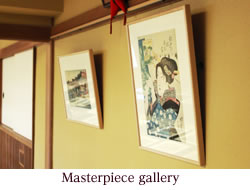 The masterpiece gallery in the 2nd floor reception hall of the temple office exhibits work by celebrated artists such as Katsushika Hokusai, Ryusei Kishida, Shiko Munakata, and Seiha Watanabe. Please come enjoy at your leisure.
(Gallery opening times: 10AM-3PM, 200 yen)
*The gallery is occasionally closed owing to unavoidable circumstances.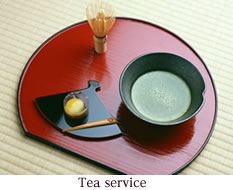 There is a tea service available on the 1st floor reception hall of the temple office. Relax and enjoy some Japanese culture after visiting the masterpiece gallery.
(Service times: 10AM-3PM, 500 yen)
*Tea service is occasionally unavailable owing to unavoidable circumstances.


We sell omikuji to tell your fortune, and charms to protect your luck. Use them as a good luck prayer or souvenir.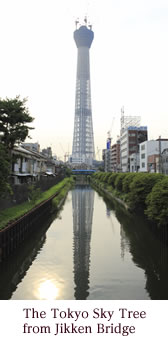 From Jikken Bridge, in front of Hoshhou Temple, there is a gorgeous view of the Tokyo Sky Tree reflecting in the river surface. Come see the "Upside-down Sky Tree".

Yanagishima Myouken-san Hosshou-ji
5-7-7 Narihira, Sumida-ku, Tokyo